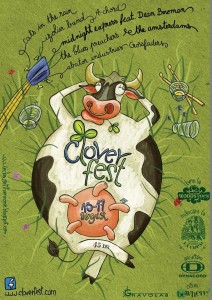 Muscel cLoverFest preserves its tradition: a festival held in the heart of Muscel village, at the end of summer, after the hay harvest.
We invite you into the mountains for:
– Musical events that respect the cover notion;
– Outdoor activities (exhibitions, puppet shows, handmade art fairs, movie screenings etc.);
– Free camping, outdoor terrace and traditional cuisine.
Prices: 45 RON (supporting artists) for the entire festival

Program

As in previous years the fifth edition of the festival (nicknamed "get in the moood edition") offers,  three evenings of live music (mainly good covers), bringing you unique bands and well-known artists as headliners. We encourage amateurs and young groups to join the Open Mike section of the festival.
Live Music:
Friday, August 15: Yoz, Cats In The Rain, The Blues Preachers (Cătălin Tzetze & Southernman Robbie), Rareș Totu & Midnight Express feat. Dean Bowman – solo Black spirituals, warm-up party
Saturday, August 16: Izolier BAND, Crossfaders, Trupa A-Chord, The Amsterdams, Abator Industries
Sunday, August 17: Jam session and Open mike (open stage for the cover lovers)
Other events
Open Mike/ New Entry – open stage for "a touch of innovation, not imitation". Amateurs, young groups & artists are invited to sing covers.
Czech Movies – movie screenings by Czech Cultural Centre @ Muscel cLoverFest
Wood Be Nice exhibition – wooden art photography.
Kids' corner – body painting, drawings, puppet shows.
Natural products & slow food fair: the villagers invite you to taste their traditional dishes.
cLoverShop: shirts and hats with the festival logo, bought at the end of summer, wearable  any season.
Food & Drink: Outdoor kitchen powered by La Copac – cauldron cooked vegetable soup and barbecue grills.
Starting at dawn 'til late into the night we'll say "cheers!" at the Woodstock Bar .
Free camping once you purchased the ticket at the entrance.
At the camping site you will find:
– a "play" area with shade and hammocks;
– a lounge area for reading, relaxing, workshops;
– first aid area, water supply and toilets;
– a "food & bar" area;
– free camping for about 500 tents.
Looking forward to seeing you there.